Folds is a family show set to take over the Southbank Centre's Purcell room as part of the Southbank Centre's Winter Festival.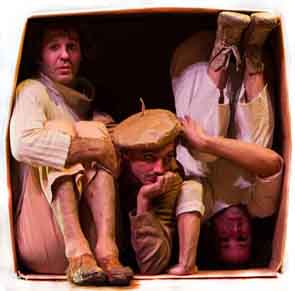 This madcap family show is by Spanish theatre company Enfila't and promises to offer something different this Christmas.
Paper lies at the heart of the production with circus acrobats and live music. The performers dance, spin and perform daring tricks on precarious apparatus; from tight-rope walking on a line made from twisted paper to acrobats in a cardboard box!


The award-winning company has some of Europes finest circus acts who combine their acrobatics with playing a large range of instruments including double bass, accordion and trombone and more unconventional sources like scissors, Sellotape and of course paper!
Folds is sui
table for families with children of all ages, it is about an hour long so it depends how long your little one/s will sit still for. I know my four year old will love it!
Going to see it? Let us know what you think :)
Listings Information:
Folds
By Enfila't
Tuesday 17 – Tuesday 31 December 2013, times vary please check website for details
Southbank Centre's Purcell Room
Tickets £18 (Concessions 50% off)
Box Office: 0844 847 9910
www.southbankcentre.co.uk